The Parish of Firswood and Gorse Hill
Welcome
"Enjoying Life in Jesus, Sharing his Love"
St Hilda's is an active, growing, local church
on the edge of inner city Manchester
in the Borough of Trafford and
Diocese of Manchester
Main Sunday Services: 10.30am - 12.00noon, with refreshments afterwards.
We are delighted that lots of Spanish speakers are joining us, and include some Spanish within the service as part of welcoming them.
"Growing Leaders, Growing Disciples, Growing Numbers"
​
With special focus on:
●
Children, young people and families
● Cross language/culture growth, particularly Spanish speakers
● Welcome, warmth and worship
---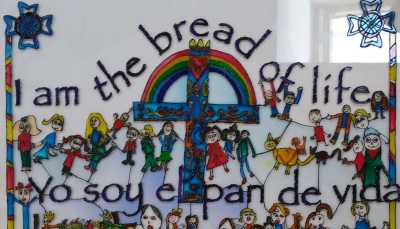 St Hilda's 2018 'Blessed are those who hear the Word of God and obey it.' Luke 11.28
Keeping God's Word: Sunday 10.30 services -
Sunday 11 February - Keeping faithful in a challenging world Sunday 4 February - Keeping to the PlotSunday 28 January - Keeping at a Cost
Sunday 21 January - Keeping and TreasuringLent starts: Wednesday 14 February - Loving God Deeply - An Ash Wednesday Valentine
Sundays in Lent - Hearing the Word of God - a Focus on John's Gospel
Lent book - The Glory of the Cross, Tim Chester
Social: Friday 2 February - Wine tasting - tickets £12
Ladies Get Together - Monday 26 February
Easter Egg collection for Wood Street Mission - until 25 February - please bring to church for children who may otherwise miss out.
Foodbank donations also gladly received.
---
---

Do join us for regular weekly events such as:
ESOL class Monday am (during school term time);
to practice Spanish/English on Tuesday evenings 7.00-8.30pm. All standards welcome - new beginners and more proficient - it's very informal.
​Thursday coffee & welcome 10am -1.30 (with toys out for toddlers to stay and play);
Breakfast before school from 7.30am on Fridays.
---
---